History of wine cellar "Na Bařině"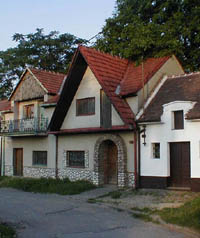 Wine cellar Na Bařině was established by Jan Bařina our grandfather in 1924. The wine cellar is located near a house where the first Czechoslovak president T. Garrigue Masaryk used to live, with other cellars below large hills covered with the vineyards.
We have resumed in tradition of our ancestral and make wines only from our own grapes from our vineyards. We use modern methods of fermentation in old tubs for red wines and with pure culture of ferment for white wines. Our wine is in temperature of 7°C before expedition from wine-vault. Wines are fully natural, with low contain of added sugar, without chemical conservation.
Some of our numerous awards:
1947 - First price for excellent quality of wines and contribution for wine from County exhibition of wine
1959 - Two first prices for Sauvignon blanc and White mic I.b from State exhibition of wine in Hodonín
1965 - Gold medal from from State exhibition of wine in Karlštejn
1982 - Gold medal for Sauvignon blanc from exhibiton of Association of winery in Velké Bílovice
1984 – Silver medal for Neuburger blanc from II. Internacional exhibition in Mikulov
1987 - Champion of exhibition of wine in Čejkovice for Sauvignon blanc
1987 – Three gold medals for Neuburk and Sauvignon blanc on Local exhibition of wine in Čejkovice
1997 – Five gold medals for Wälshriesling, Rheinriesling, Valteliner Vert, Sauvignon blanc and André on Wine markets at Čejkovice
2000 – Two gold medals for Valteliner Vert a Neuburger blanc on Wine markets at Čejkovice
2001 – Gold medal for Chardonnay na on Wine markets at Čejkovice