History of wine cellar "Na Bařině"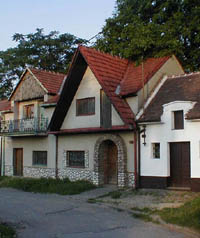 The original mark - Wine cellar Na Bařině was rebuilt in 1990 by Ing. Tomáš Bařina and continued in many years of tradiotion of our ancestrals. In last years was wine cellar Na Bařině takeover by Jan Bařina, Tomáš Bařina and Tomáš Hajduch. Our wine cellar is located at Čejkovice, south of Moravia, one of the hottest and third biggest wine village of Czech Republic, on street Na Bařině.
We have 1,4 ha of wine yards which is mostly 4 years old and lays on south positioned hills. Unique climate and postion of our wineyards are base of high quality of white or red variety of grapes. We are making selection of grapes, plants are based on two stems and every one of stem is cut on one expedition with maximum count of 6 buds. These method make it possible to have grapes spread equally and take kontrol of quality of grapes.
Our wines are from growing of grapes in vineyards as far as production of wine determinated for bottling and laying archives of wines, gastronomy, specializated shops and to private customers. Production is located in wine cellar Na Barine.
We are resumed in tradition of our ancestrals and make wines only from our own grapes from our vineyards. We used modern methods of fermentation in old tubs for red wines and with pure culture of ferment for white wines. Our wine is in temperature of 7°C before expedition from wine-vault. Wines are fully natural, with low contain of added sugar, without chemical conservation. We offer bottled qualitative and high mark wines. We are try to go by french way of terroir. Today wine cellar Na Bařině is a range of varietal wines that reflect this philosophy of allowing the varietal character to shine. Sourced from premium vineyards, the wines are a true expression of Southern Moravia varieties. Premium quality and contemporary labelling, the refreshed branding is recognisable by the distinctive brook, which is colour matched with each variety. Wines from our winery are fruit driven with spicy, full-flavoured styles that make them perfect food wines.
Some of our numerous awards:
1947 - First price for excellent quality of wines and contribution for wine from County exhibition of wine
1959 - Two first prices for Sauvignon blanc and White mic I.b from State exhibition of wine in Hodonín
1965 - Gold medal from from State exhibition of wine in Karlštejn
1982 - Gold medal for Sauvignon blanc from exhibiton of Association of winery in Velké Bílovice
1984 – Silver medal for Neuburger blanc from II. Internacional exhibition in Mikulov
1987 - Champion of exhibition of wine in Čejkovice for Sauvignon blanc
1987 – Three gold medals for Neuburk and Sauvignon blanc on Local exhibition of wine in Čejkovice
1997 – Five gold medals for Wälshriesling, Rheinriesling, Valteliner Vert, Sauvignon blanc and André on Wine markets at Čejkovice
2000 – Two gold medals for Valteliner Vert a Neuburger blanc on Wine markets at Čejkovice
2001 – Gold medal for Chardonnay na on Wine markets at Čejkovice